Beverly & Sam Ross Gallery
Sharon Havelka
Salmon Skin Fried… and Other Delicacies
January 22 – March 5, 2023
Opening Reception: Friday, February 3, 5:00-8:00 pm
Artist's Talk: February 9, 12:00 – 1:00 pm / Demo: 11:00 am – 12:00 pm
SHARON HAVELKA constructs mixed-media quilt sculptures from old clothing and other found objects. Her work highlights the marginalized, the overlooked, that which is considered weird or unusual, and stitches them into beautifully crafted and highly detailed objects. She is inspired by her unique upbringing as a descendent of the Delta Chinese, and from her skills and experience learned as an ICU registered nurse. She received the Arts Accelerator Grant from ArtsMemphis and was an artist-in-residence at Crosstown Arts. She has had work shown in Quilt National and Fiber Arts International. Sharon was born, lives, and works in Memphis.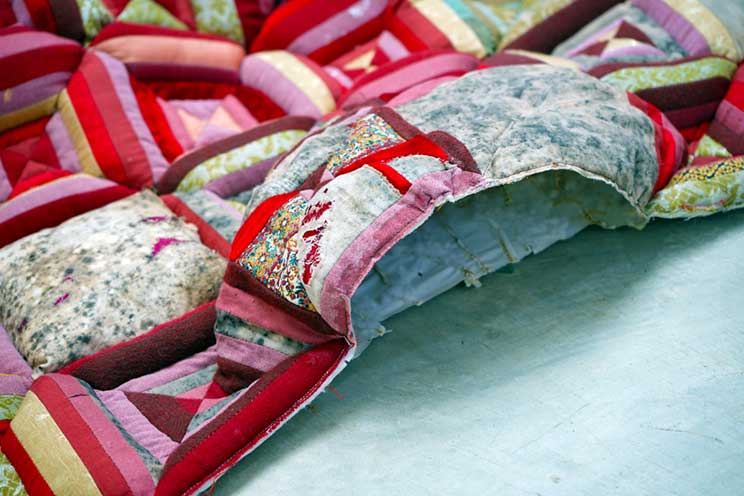 ARTIST'S STATEMENT:
"I make mixed-media quilt sculptures from old clothes and other used materials and found objects. I push the boundaries of what a quilt can be by experimenting with process and material. I have also worked as an ICU RN for the past 13 years. As both an artist and a nurse, I combine the physiology of the human body and brain with the elements and meanings of art. For example, I convey circulation with color, perfusion with light and dark values, and breath with composition and negative space. As a Chinese American, concepts focus on my experiences with various degrees of cultural acceptance and identity, celebrating the marginalized and discarded."
ARTIST'S WEBSITE
Fall 2022 BFA Exhibition
December 9, 2022 – March 5, 2023
Gallery Foyer (Adjacent to Beverly & Sam Ross Gallery)
Artists' Reception: Friday, February 3, 5:00-8:00 pm
The Beverly and Sam Ross Gallery at Christian Brothers University is proud to present the 2022 Fall BFA Exhibition, featuring works by the following graduating seniors in the Department of Visual and Performing Arts:
SERENA LEI
"My work follows closely with my love of colors and using elements that I hold close to my heart, such as the use of fun typefaces. Clean but unique, and fun yet structured are a few adjectives that I would use to describe my personal work and what I strive for in design. In the future, I hope to explore more bodies of work that can relate to my culture and my belief that design can connect everyone and anyone together." 
ERYKA PRESLEY
"My work focuses on creating posters and album covers. Music has been my interest in years, and I have been creating fan art of my favorite artists and albums for years. I am a beginner in producing music and creating prints, but I want to create a realistic depiction of how artists promote themselves. To reflect this idea, I will be creating a small music store where I will promote a fictional artist's album. I also am interested in using music to depict emotions. I relate to my favorite artists' music because of the way composition makes me feel. Fast and loud beats can suggest risk, while the slow tempo references regret and bad decisions."
---
The Beverly + Sam Ross Gallery is located on the lower level of Plough Memorial Library in the center of campus on the Buckman Quadrangle, easily accessible from the Central Avenue parking lot and the East Parkway entrance. All exhibits are free and open to the public.