Writing & Communications Corner
Located in a sunny corner of the first floor of the Rosa Deal School of the Arts building room 102, the Writing & Communications Corner (WCC) is a welcoming space for open collaboration between CBU students and our highly-trained consultants. WCC consultants come from all four CBU schools and represent all types of majors. They are passionate communicators and want to help others succeed in not only class assignments but also in developing communication skills to help people express ideas and connect with others. We're not a tutoring service; we're your partner in bringing your ideas to the world.
Do you have a research project due in a few days? Are you struggling with ways to navigate your research? If this is you, the WCC has just what you need:
What's New in Spring 2021
Schedule an appointment with the WCC
The Writing and Communications Corner will be working in an online format until further notice. We're still here to provide the high-quality service you expect – just virtually!
There are two ways to participate in our online system: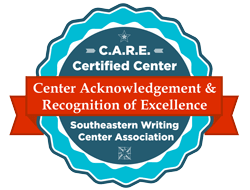 Written Feedback: Does not provide real-time interaction with a consultant. Instead, you will be uploading a document for a consultant to review and upload back to you within 24 hours. To participate, reserve a session just as you would for regular face-to-face appointments, and
follow the instructions you receive in the pop-up box.
Real-Time Online: Allows for real-time interaction with a consultant. You will upload a document for a consultant to review, and you will interact with them as they do so. To participate, reserve a session for a specific day and time to "meet" with consultants virtually: through, video, audio, and/or text chat. Follow the instructions you see once you log in (and in the appointment pop up and confirmation email).
Note that while you can use a computer with a microphone (and even a camera), online consulting appointments can work using text chat.
You will see specific instructions on how to participate in either of our online formats at the top of the schedule you will see once you sign into WCONLINE.
Contact Us
Dr. Clayann Gilliam Panetta, Professor in the Department of Literature and Languages, is the Director of the WCC. She can be reached at cpanetta@cbu.edu and (901) 321-3955.