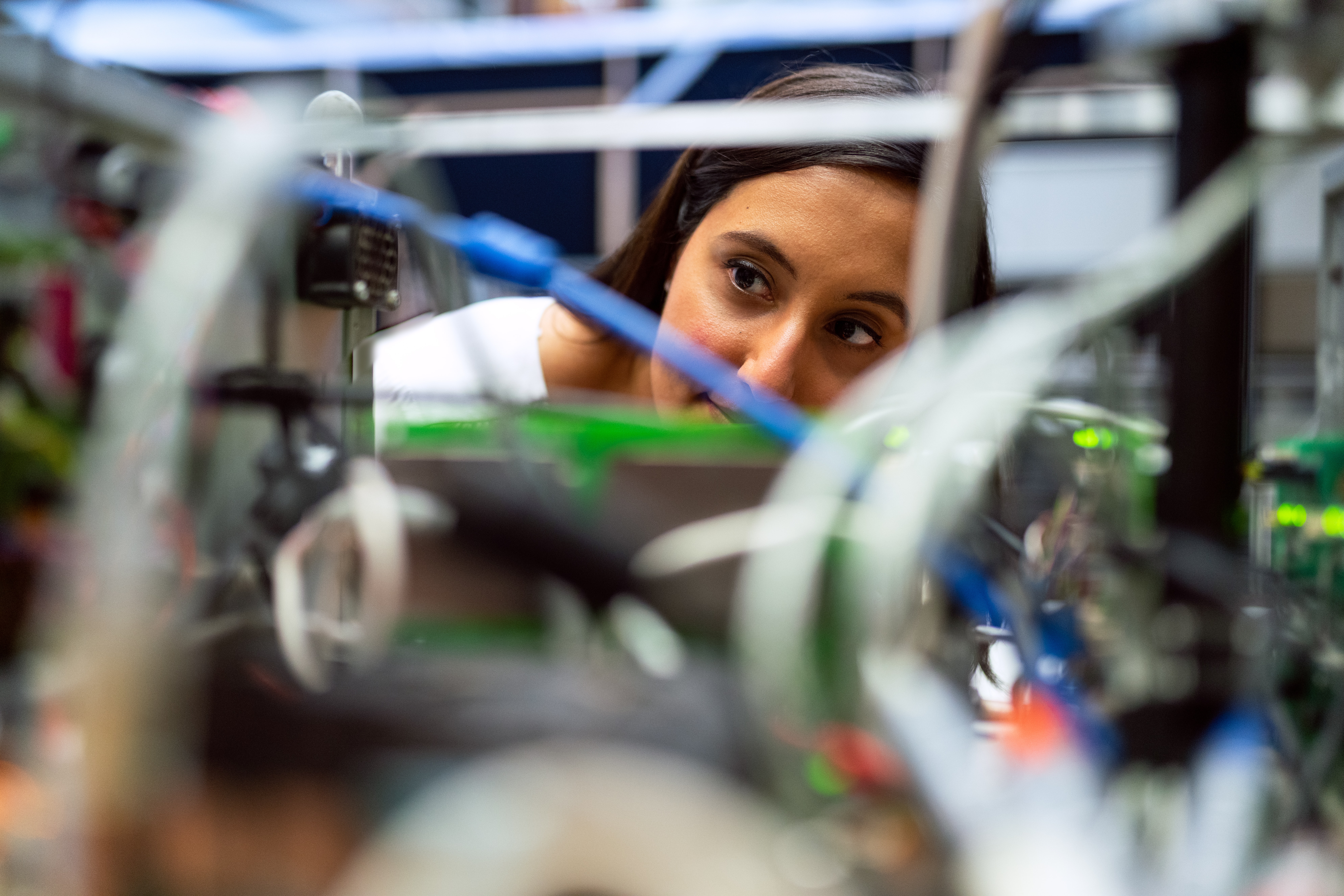 Mechanical Engineering
Mechanical engineers use the principles of force, energy, and motion, and then apply their knowledge of manufacturing, design, and operational processes to advance the world.
As a mechanical engineer, you will look for answers to questions like: "How does this work?" "Why?" "How can I make it better?" Mechanical Engineering is the broadest engineering discipline with applications in nearly every industry that involves product development, process control, energy generation, and consumption.
CBU's design-oriented and laboratory-intensive program emphasizes hands-on experience and teamwork. Traditional classroom instruction is supported with laboratory experience to insure a solid foundation in traditional and emerging areas of mechanical engineering.
The Mechanical Engineering program offers two traditional components:
Energy Systems – focusing on energy conversion and fluid/thermal systems
Mechanical Systems – addressing the dynamics and mechanics of a system/component
Program Highlights
You'll learn basic mechanical engineering principles, develop problem-solving skills, and spend lots of time in the laboratory.
Customize Your Education
You can customize your degree by choosing technical elective courses in:
Aerodynamics
Unmanned Aerial Systems
Thermal Environmental Engineering
Intermediate Manufacturing
Selection of Materials
Mechatronics
Internal Combustion Engines
Packaging
Capstone Experience
The two-semester Capstone Experience will challenge you to apply what you have learned in a comprehensive design project that often is done in conjunction with an internship or an engineering practitioner. You will engage in a complete design cycle from concept development through design, analysis, manufacturing, report writing, and presentation.
What You'll Study
The Mechanical Engineering degree requires 131 credit hours including:
General education courses (Social Sciences, Religion, English Literature, etc.)
Math and science courses (Chemistry, Physics, Calculus, etc.)
Major-specific courses (See Program Course Requirements for details)
View Mechanical Engineering Course Requirements
Paid Internships
Internships are a large part of your experience, helping you connect classroom learning with the "real-world" environment. The majority of our students have a paid internship in their junior and senior year that often leads to a full-time position with the company. Career Services at Christian Brothers University facilitates all career events including an internship and job fair.
Minors
The School of Engineering offers the following minors:
Is Mechanical Engineering for You?
Mechanical engineers have a broad range of career options. You may enjoy a career in mechanical engineering if you are:
Detail-oriented
A critical thinker
Have good computer skills
Enjoy identifying and solving problems
Can communicate well
Careers
Salaries for mechanical engineers range from $54,000 to $131,000 with a median salary of $84,000. Positions related directly to your degree include but not limited to:
Mechanical engineer
Aerospace engineer
Automotive engineer
CAD technician
Manufacturing engineer
Product engineer
Control and instrumentation engineer
Maintenance engineer
Nuclear engineer
In addition, the mathematical content of a Mechanical Engineering degree opens up a variety of opportunities in the finance and management sectors.
Clubs & Organizations
As a member of CBU's American Society of Mechanical Engineers (ASME) student chapter you will have opportunities to enhance your leadership skills, build relationships with peers and alumni, and network with business leaders through conferences and seminars.
The annual ASME Student Professional Development Conference offers the chance to compete in academic and professional activities with regional engineering schools. Competitions in student design, technical paper writing, and presentation will help you develop skills in oral presentation, written communication, and real-time problem solving.
Meet the Faculty
FIVE-YEAR BS/MSEM PROGRAM >
The School of Engineering also offers an accelerated five-year BS/MSEM program that allows you to combine a Bachelor of Science (technical) with a Master of Science (Management) degree that you can complete in five years.