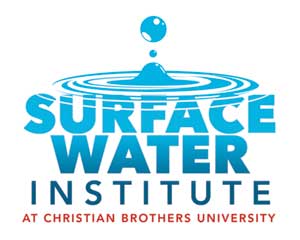 The Surface Water Institute at CBU is an inter-agency research center under the Science and Water Resource Advisory Board. The institute works on complex surface water issues and provides a platform for addressing critical surface water resource challenges facing the Greater Memphis Metro-Region. This is done through collaboration, research, and project development.
What We Do
The main functions of the Surface Water Institute are to:
Identify, develop, and implement effective management strategies that address our stakeholders' watershed quality challenges.
Assist local, state, federal and private agencies with water quality and quantity evaluations, including watershed assessments and plans.
Identify the shared interests, needs, and opportunities in watershed management from among diverse groups.
Perform as the watershed agency of choice for the Greater Memphis Metro-Region.
Define watershed stewardship and management criteria for the area's environmental, social, and economic benefit.
Provide a leadership platform for organizing water governance programs that promote sustainable water balance, quality, and health.
Current Projects
City of Memphis, Envirofish 2.0 Project
City of Memphis, Drainage manual project
City of Memphis, QA/QC Extension
City of Memphis, QA/QC Study for the H&H Drainage Master Plan
City of Memphis, Sanitary Sewer Access System Project
City of Memphis, CBU Soccer Field Monitoring Program
City of Memphis, Gayoso Creek Monitoring System
Malasri Engineering, Stream Crossing Inspection
National Weather Service, COMET Collaboration Project
U.S. Army Corps of Engineers, Memphis District, Arlington Flood Respond and Warning System
Shelby County, Resilience Project HEC-RAS and HEC-HMS Models for QA/QC Study
Contact the Surface Water Institute